PWSC's CEO, Gale F. Sommers Elevates the Voice of Middle Market Businesses
October 29, 2015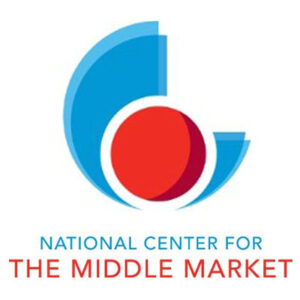 CHANTILLY, VA – October 29, 2015 – Last week, Gale F. Sommers, Professional Warranty Service Corporation's CEO and President was an honored guest, attending the White House Middle Market Executive Fly-In. Hosted by the National Center for the Middle Market and The Ohio State University Fisher College of Business, a small group of 11 middle market CEOs travelled to Washington D.C. from across the country representing a wide scope of industries, from glass and metal contracting and full-service trucking to contract security services and plastics and chemical solutions. The corporate executives made the most of the opportunity to meet and discuss middle market issues with senior administration officials over a day and half of scheduled meetings and receptions in the nation's Capital.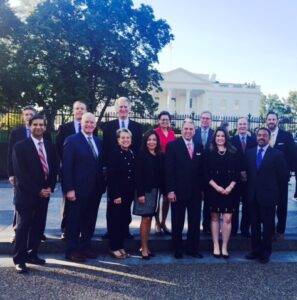 "We met with an assistant to the President and with several administration officials responsible for infrastructure, workforce development, budget and trade in order to exchange ideas and issues," noted Mr. Sommers. "We touched on numerous topics, but only uncovered the tip of the iceberg. There are still a variety of complex issues to discuss and we need to go deeper into each of these areas."
The goal of the National Center for the Middle Market is to ensure the vital middle market receives the attention it deserves. The Center provides a voice and point-of-view for this critical yet understudied segment of the economy, driving national dialogue about its importance and impact. Through this new "Executive Fly-In" concept, the hope is that exchanges such as these will allow administration officials to hear issues that business people face in their own companies and workforce, particularly from a market segment that has not had much of a voice in the past.
Gale went on to add, "The highlight for me was the opportunity to meet and talk to Jerry Abramson, the Deputy Assistant to the President & Director of Intergovernmental Affairs.  In this role, Abramson oversees the Obama administration's domestic agenda with state, city, county and tribal elected officials across the country."
Through this event, Mr. Sommers further solidified his belief that in our professional roles, "our employees, customers and builders should become actively involved with their local and state officials and agencies since a lot of the administration's policies are implemented and interpreted at that level."
It is not yet known when another Executive Fly-In will be scheduled, but you can bet that Mr. Sommers will welcome any future involvement with the NCMM and looks forward to the discussions yet to come with White House administration for the betterment of middle market companies.
About Professional Warranty Service Corporation
Professional Warranty Service Corporation (PWSC) headquartered in Chantilly, Virginia, is the leading provider of new home warranty products and administration services to the largest tier of domestic residential construction firms in the U.S. For over twenty years, PWSC has addressed the needs of America's top builders through superior risk management, best-in-class customer care and dispute resolution services as well as exceptional sales and marketing tools. The result is a higher comfort level with home ownership, greater control over unforeseen long-term risk and real estate investments that retain value over time. From the first year to the tenth, from walk-through to closing, from foundation to fridge, we have the right tools and solutions. That's confidence you can build on.
For More Information:
Website – www.pwsc.com
Facebook – facebook.com/pwscprotects
LinkedIn – linkedin.com/company/professional-warranty
Twitter – twitter.com/PWSCProtects
Pinterest – pinterest.com/pwscprotects/
Contacts
Jess Norman – Director, Marketing
800.850.2799
jessnorman@pwsc.com