Trusted Resource
New home confidence from our team to yours.
Signature 10-Year Insured Warranty
Differentiate Yourself as a Builder
The PWSC-administered Signature Warranty is a 10-year written and insured Builders Limited Warranty that delivers tiered coverage. This warranty is designed to fulfill your obligations to the homeowner and provide the highest levels of quality and service you want associated with your company. Unlike many warranties on the market, the Signature Warranty is backed by a superior-rated insurance company, not a risk retention group.
The Signature Warranty is better than most 10-year builders warranties on the market in three important ways:
Backed by Steadfast Insurance, an A+/XV-rated member of Zurich North American Group,

Clearly defines builder liability for workmanship and materials defects.

Fills the gap in your builders liability coverage by covering the cost to repair a builder's defective work causing structural failures in years three through ten.
Take a look at the interactive house below for Signature Warranty coverage terms and details. Click on the numbered hot spots for more information on which elements of the house are covered under this comprehensive, 10-year insured Builder's Limited Warranty.
How it Works
This Builders Limited Warranty includes three distinct home protection warranty periods:
Year One: Covers workmanship and materials defects as defined by the warranty document.
Year Two: Covers major systems, exclusive of appliances and items of equipment; including wiring, piping, ductwork and specified structural elements.
IMPORTANT NOTE: Builder is responsible for making all warranted repairs in years one and two, but the insurance component of the builder's warranty will cover warranted repairs during this period if the builder fails to perform.
Years Three through Ten: Builder warrants the home against covered structural failures. The insurer assumes the Builder's warranty obligations during this period.
In addition to our insured Signature Warranty, we offer an uninsured Signature Warranty product. PWSC also addresses state-specific requirements. Contact us for more information.
PWSC works to build bridges between homeowner and builder, not fences. In the event a claim is filed, we provide cost-effective dispute resolution. Warranty disputes are resolved using binding arbitration, not expensive litigation.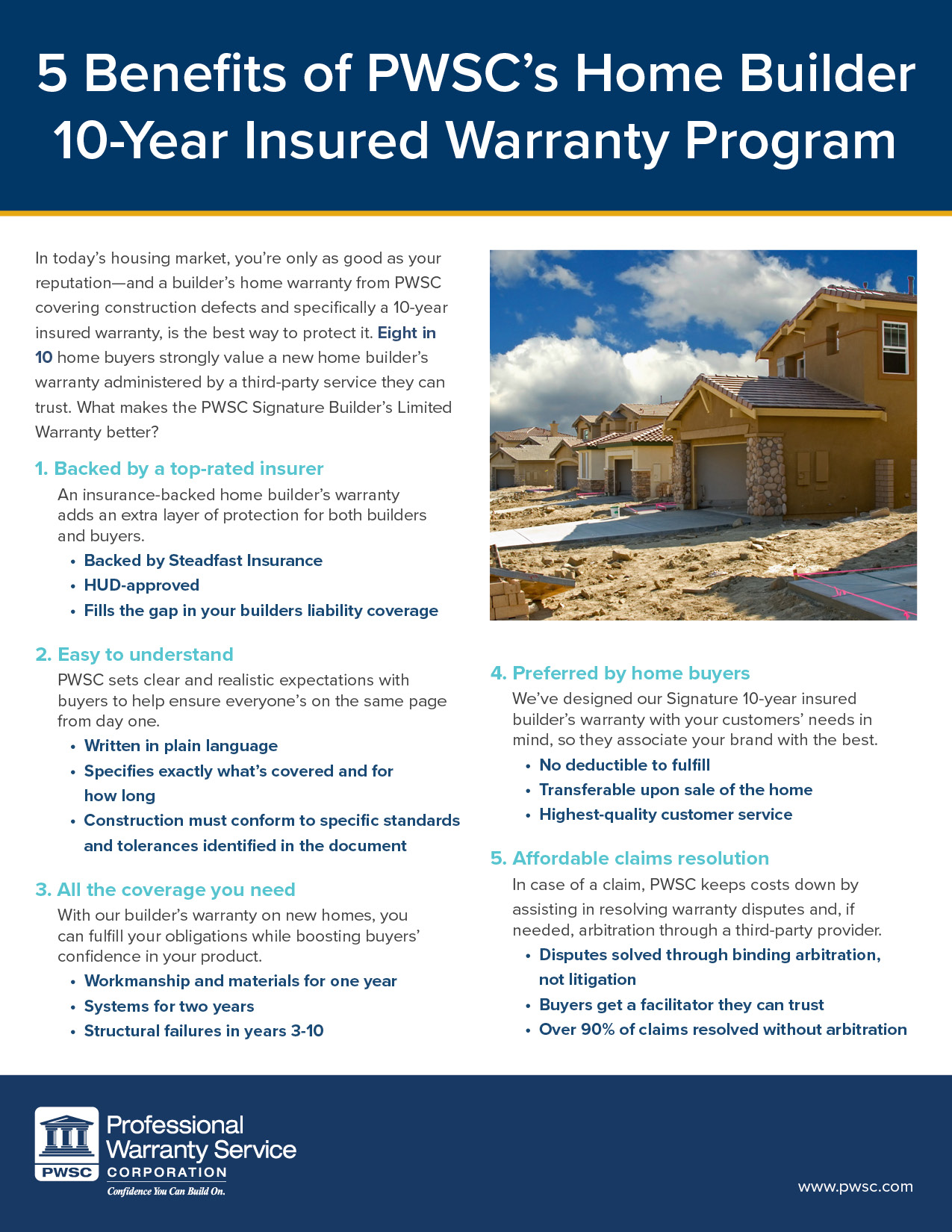 Benefits to Homeowners
Easy to understand. Written in plain language, with specific details so homeowners know exactly what's covered and for how long.
No deductible.There is no deductible to fulfill before a homeowner receives payment.
Transferrable. If the home sells during the term of the warranty, transferring the remaining portion of the warranty to the new owner is easy.
Trained customer service and claims representatives.Our helpful service representatives mediate disputes, resolving over 90% of homeowner complaints without arbitration.
HUD-Approved Builder Warranty Program
The Signature Warranty administered by PWSC is a HUD-approved 10-year insured warranty program. PWSC is proud to be a HUD approved warranty program, eligible for certain inspection waivers on homes with federally insured mortgages, including FHA and VA. The PWSC Builder Warranty Program is approved throughout the U.S., except Alaska.
Highlights
HUD-approved

Backed by a highly rated insurance carrier

Covers workmanship and materials for one year, systems for two years, structural for 10 years

Binding arbitration provision