Homeowners
Providing superior value
and protection is our top priority
HomePRO Systems & Appliance Warranty for Homeowners
Protection For Your Home, Confidence For You!

The HomePRO Warranty is quality protection for your home's systems and appliances. Be prepared and have the "right" person to call to complete repairs.
Separate from homeowner's insurance, a home warranty or home protection plan covers the major systems and appliances in your home and protects you from unplanned expenses when something breaks or malfunctions.
With a HomePRO Warranty, you have coverage backed by a superior -rated insurance company. PWSC is the largest third party home warranty coverage administrator in the U.S., providing real security you can trust− so you and your family can make your home your castle!
With several HomePRO residential home warranty plans to choose from, we have the protection plan that's right for you:
Gold Plan: The HomePRO Gold Plan provides basic, sensible coverage at a reasonable price to fit anyone's budget.
Platinum Plan: The HomePRO Platinum Plan, our mid-level package, includes all of the major home systems and appliances covered by Gold Coverage as well as those that might easily be overlooked.
Elite Plan: Our premium most-inclusive coverage, The HomePRO Elite Plan, includes everything covered in the Gold and Platinum Plans as well as many additional coverage options to provide the highest level of protection for extra security and confidence in handling unexpected repairs.
New Construction Plan: (For New Homes ONLY) The New Construction Plan is our HomePRO option for homes built within the last 12 months. This comprehensive plan gives you three years of Platinum Coverage for one low price, so that your home's major systems and appliances are protected.
Click here for coverage details.
Start protecting your home today!  Enroll Now!
I would recommend the HomePRO Warranty… It truly is a no hassle warranty that actually does what it says.

Andrew G.

Homeowner

New Jersey
Home Warranty Checklist
When comparing coverage between home warranties, here are important questions you should ask:
Are major operating systems and appliances covered, regardless of age, make or model? They are covered under HomePRO!
Is their claims department open 24/7/364? It is under HomePRO (Every day except Christmas).
Do you have to find your own qualified licensed contractor to fix the problem? We vet contractors for you, and arrange for one to fix your issue promptly. All our pre-screened technicians are licensed and insured.
Do they have trained customer service and claims representatives? Our helpful representatives evaluate your question or claim scenario and work to resolve your issue as quickly as possible.
Benefits
Easy to understand. Written in plain language, with specific details so homeowners know exactly what's covered and for how long.
Helps you sell your home faster. You have a competitive differentiator when listing your home. Homes that carry our HomePRO warranty offer your potential homebuyers greater value and instill confidence in their investment.
Covered for unexpected repairs and major appliances. HomePRO warranties help homeowners manage the risk associated with purchasing a new or existing home.
You can enroll your home at anytime, not just at point of sale or transfer of ownership.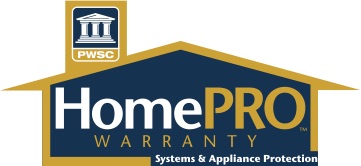 Enroll in HomePRO

Already a HomePRO customer? 
PLEASE ADDRESS QUESTIONS, COMMENTS AND CONCERNS TO 866.237.4980