As PWSC celebrates its 20th year as the leader in new home warranty administration, it makes sense to look at the housing industry, how things have changed in those 20 years and what we might see for housing's future.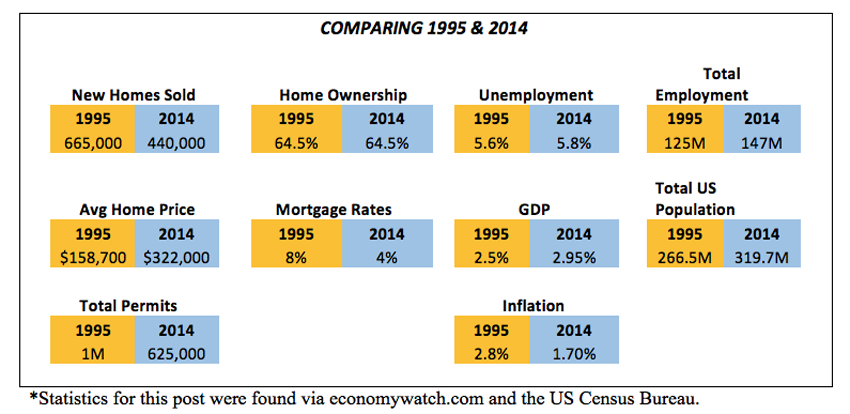 In looking at all of the data above, comparing 20 years ago to now, what does all of this mean?  Why were there over 225,000 more new homes sold in 1995 than were sold in 2014?  Why has housing struggled so much since the boom year of 2005?  There are lots of reasons for this that might seem easy to explain in hind-site but it seems to have been a perfect storm that has continued to hold housing down and it is unlikely that you can point to any single reason.  There are predictions that 2015 will show a substantial increase in new home sales.  Many economists are projecting home sales to exceed 500,000 and some are even projecting sales to exceed 600,000.  There are concerns about where interest rates are headed but most project them to remain under 5%.  Inflation is expected to remain low, GDP is expected be at least 3%, and unemployment is expected to continue to drop.  However we have seen positive predictions for housing over the last several years and few have come to pass.  Will 2015 be another disappointing year for housing or will we finally see it start to move back to more normal levels?
Several factors that negatively affect housing continue to be present.  There are always concerns about interest rates but they have been at historic lows for several years.  They are likely to increase and this could result in a "shock" to the market depending on the pace and level of the increase.  There has been a lot of concern about price increases, which has been valid.  Builders have been focused more on the higher end buyers in order to maintain margins. The credit market has been an obstacle to home buying with the increased banking regulation and the difficulty in obtaining a mortgage and the issues that have existed with the GSE's and the secondary market. The dysfunction of government has not helped.  We also appear to have lost a generation of new home buyers.  There has been much written about the millennial generation and it's lack of participation in the housing market.  The level of student loan debt, the lack of higher paying jobs, and insufficient savings to meet the down payment requirements have all contributed to this. The question will be whether this generation is ready to finally pursue "the American Dream."
However there are also positive signs.  Consumer confidence is improving.  The job market is continuing to recover and wages are rising.  Even though rates will most likely increase, they are expected to remain comparatively low.  Home prices are expected to moderate in the future.  There appears to be some loosening in the credit market while the down payment requirements and credit score requirements have lessened.  These signs, comparatively low mortgage rates, low inflation, slowing price growth, along with an expected increase in new household formation should help build momentum.  Builders, who have been focusing on higher-end buyers for the last few years, should start addressing the pent-up demand for entry level homes.  If this momentum can be maintained then maybe we will start seeing housing move in a sustained, positive direction.  I, for one, am ready for it.
Since 1995, PWSC, has played a significant role in providing our builder customers with a wide variety of risk management, sales and marketing tools.  We have responded to the changes in the market with consistent, high value services and products.  Our mission is to create innovative warranty solutions, such as the Home Builders Protective Policy from early in our history and the Signature 10-year insured Builder's Limited Warranty.  With our ever-developing menu of offerings, our clear and concise warranty documents, our response to the ever changing legal environment in each state throughout the country to ensure that our products always comply, as well as our customer-focused approach in working with builders, homeowners and insurance partners to guarantee fair and equitable resolutions, PWSC is well-positioned to serve America's top builders for the next 20 years.

By Gale F. Sommers
PWSC, President & CEO

*Statistics for this post were found via economywatch.com and the US Census Bureau.