Entry-Level Homes Rebound in 2018 with the Help of Warranties
April 5, 2018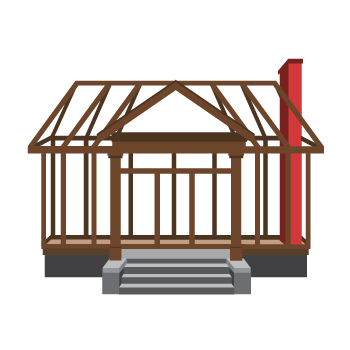 When an improving economy unleashed a flood of new home buyers several years ago, most builders looked toward the luxury home market, as the market offered the opportunity for higher profit margins.
Meritage Homes went in the opposite direction.
In response to the tidal wave of first-time buyers clamoring for rapidly dwindling starter homes, the builder dove into the entry-level market with a line of affordable homes featuring energy-efficient amenities and smaller footprints between 1,800 and 2,500 square feet. The company spent more than $1 billion last year securing more than 30,000 new lots, nearly 70 percent of which were earmarked for entry-level communities, and launched its new product almost entirely on spec.
The result? A 20 percent increase in homes sold, a 5 percent growth in home closing revenue, and the highest customer satisfaction scores in the company's history.

"A key strategic driver of our growth has been our successful pivot to the entry-level market," says Steve Hilton, chairman and CEO of Meritage Homes, a long-time PWSC client. "There is a significant long-term opportunity with this buyer demographic as millions of millennials will be purchasing their first homes over the next decade."
At a time when the volume of starter homes has plummeted by more than 43 percent and more than half of available homes fall into the top third of the price range, a handful of builders like Meritage are capitalizing on the near-desperate demand for affordable housing. Toll Brothers is targeting first-time buyers with its new line of entry-level homes with limited options and upgrades, while D.R. Horton has been building its affordable Express Homes since 2014.
But the competitive advantage may not last long. As a growing number of home builders catch on to the potential of the entry-level market, they're finding ways to lower costs and design homes that can be delivered at a lower price point.
"Builders won't ignore this hungry market, and we'll start to see a rise in new construction at the more affordable end, instead of all the luxury buildings we've seen lately," predicts Zillow chief economist Svenja Gudell.
Tapping the first-time buyer market
The square footage of newly built homes has been decreasing, suggesting that builders are starting to focus on more affordable housing.
After increasing and then leveling off over the past several years, the average square footage for new single-family homes fell slightly to 2,571 square feet in the last quarter of 2017. It's a pivot for the home construction market, and one the National Association of Home Builders expects to continue.
"On the supply side, builders are finding business models to provide the level of product, such as townhouses, that first-time buyers are looking for," says NAHB chief economist Robert Dietz.
Entry-level homes may not offer the higher profit margins of the luxury market, but they can make up for it in sales volume. When a development outside of Ann Arbor, Michigan offered new homes for $150,000, the builder sold more than 100 units in less than a year. Even home buyers from as far away as Detroit were willing to undertake the 40-minute commute to make their move into an affordable, newly built home. Builders in North Carolina and the Atlanta market have seen similar results.
"There are countless Americans clamoring for affordable housing, and they're willing to drive long distances to find it," says Builder Online contributor Mike Kalis, CEO of MarketplaceHomes.com.
First-time buyers are typically looking to spend between $150,000 and $250,000 on modest new homes that improve their living situations, and they're not the only ones. Many Baby Boomers are looking for move-down homes as they age, putting further strain on the limited supply of affordable homes. As many builders continue to plumb the luxury home market, those who focus on entry-level homes can snap up these would-be buyers with minimal competition—for now, at least.
"It might seem safer to build and sell just a few high-dollar homes, but America's increasing demand for inexpensive housing should not be ignored," Kalis says. "In fact, it may be safer to do what others are not and build for the masses."
Driving sales with structural warranties
While the high demand for starter homes doesn't necessarily guarantee a higher volume of sales, it's clear that the right business model and a strong marketing strategy can attract first-time buyers in droves. Energy-efficient amenities, all-inclusive pricing, and move-in ready homes are a few of the tactics builders have successfully deployed.
Home warranty solutions are another big selling point for first-time buyers. Rising home prices, interest rates, and student debt have made affording even an entry-level home difficult for many would-be buyers, who may end up with little to no funds for home repairs down the road. Home warranty solutions offer a safety net by mitigating buyers' (and builders') risks during the first years of homeownership. Six in 10 homeowners say they strongly value structural home warranties.
To attract first-time buyers, however, builders need to be proactive about marketing their structural warranties to buyers. That's why PWSC's home builder warranty services include marketing materials that builders may use to help home buyers understand the benefit of their home warranty program.
As home prices continue to rise and profit margins on starter homes improve, more builders are likely to see the potential of the entry-level market. The time to seize the competitive advantage is now, while demand is still peaking.
"A lack of inventory and more millennials entering the market should drive up entry-level prices and make them tempting targets for developers," predicts MoneyTips. "It's likely that there will still be a shortage of affordable housing, but expect supply in this segment to increase and for prices to stabilize."