After a year of devastating hurricanes that left thousands of homes in Florida and Texas submerged under water, home builders in those areas have been busy rebuilding flood-damaged neighborhoods. But the heavy toll these storms exact has left homeowners and builders alike wondering how much longer the insurance payouts can continue.
Politicians have been trying for years to overhaul the National Flood Insurance Program (NFIP), which subsidizes flood insurance premiums for homeowners living in the flood-prone areas private insurers refuse to cover. While the NFIP has never stood on solid financial ground, the rise in powerful storms over the past two decades has landed it deeply in the red. Hurricanes Harvey and Irma dealt an estimated $200 billion in damage to Texas and Florida—a tab comparable to the cost of Hurricane Katrina in 2005. By late December, Florida homeowners had filed more than 27,000 NFIP claims resulting in more than $600 million in payouts so far.
In an effort to make the program more sustainable, the House of Representatives passed a bill in November introducing several reforms. Still lacking Senate approval, the program is set to expire on February 8, 2018, unless Congress passes the new legislation. Among other reforms, the bill aims to:
Encourage more private flood insurers to enter the market

Reduce costs from repetitive loss properties

Improve flood mapping

Cap annual premium increases and surcharges

What does it mean for home builders?
The proposed legislation is the result of intense negotiations between politicians, home builders and many other stakeholders. The National Association of Home Builders has worked closely with the House committee to craft a "viable, long-term flood insurance reauthorization bill that will keep the National Flood Insurance Program fiscally sound and enable home builders to provide safe and affordable housing to consumers," the organization says.
Despite talk of banning new construction from the program, the latest version of the reform would still allow newly built homes in the 100-year floodplain to qualify for NFIP coverage.
"New homes are built to more stringent safety standards and usually fare much better than the older housing stock in flooding disasters," says NAHB chairman Granger MacDonald. "Moreover, new construction policyholders pay full-risk rates, so they put more into the NFIP than they take out in claims."
Builders could be affected if flood insurance premiums start climbing, however. Higher rates could ultimately dissuade home buyers from buying new homes in flood-prone areas. Since potential construction sites are already in short supply in many areas, this could make it harder for builders to meet the demand for affordable new housing.
Overall, however, members of the NAHB are optimistic about the reforms.
"As a builder who knows firsthand how flood insurance rate increases can hurt homeowners, businesses and communities, I am pleased that the House Financial Services Committee has made such important progress on reauthorizing the NFIP," says Randy Noel, a home builder from LaPlace, LA and NAHB first vice chairman.
"This bill is critical to allow more borrowers to be covered by flood insurance and ensure that we can continue to provide safe and affordable housing in Louisiana and across the nation."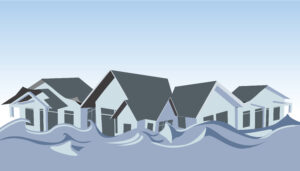 How will it affect home builder warranties?
While some builders might feel the impact of flood insurance reform on the business side of things, new-home builder warranties won't be affected. Although the NFIP revamp has major implications for homeowners living in low-lying areas, who could see their premium rates rise, it will have no effect on structural home warranties for new construction.
That's because home warranties are one of three separate entities that protect home buyers against damage to their home. While the flood insurance program covers homes that have been damaged by flooding, home builder warranties only cover defects in the home's construction. Both are separate from homeowners insurance, which typically don't cover flooding or construction defects but do protect policyholders against other types of damage.
Since new-construction home warranties exist separately from other types of coverage, builders and homeowners alike can expect to continue receiving the same level of warranty coverage and service regardless of what happens to the NFIP. Top-notch home warranty providers like PWSC will still provide cost savings and long-term risk management for builders while giving home buyers the confidence to make an offer on a newly built home.