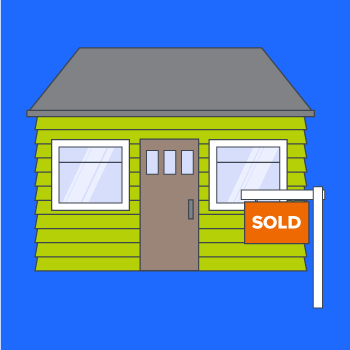 Builders at Allen Homes in South Dakota barely had time to lay the foundations on its new home before buyers snapped them up. Arizona builder, Miramonte Homes, sold out one of its projects before the public report was even released.
"As soon as homes are finished, they're flying off the shelf," says Matthew Pointon, Capital Economics' U.S. property economist.
Last year was a banner year for home builders, as the housing market's continued recovery and ever-tightening inventory sent demand for new homes through the roof. In November, buyers closed on new homes at the fastest pace in more than 25 years, skyrocketing sales by 17.5 percent over the previous year.
Between strong sales, the recent tax overhaul and the promise of deregulation to ease the pressure on contractors, builders entered 2018 on a wave of optimism. Builder confidence hit an 18-year high in December, as the National Association of Home Builders' monthly sentiment index surged five points to 74. Derived from a monthly NAHB survey gauging builder perceptions and expectations as "good," "fair" or "poor," the index presents a seasonally adjusted score representing the overall outlook of builders. A score over 50 indicates that more builders view conditions as good rather than poor.
Builders' assessment of current sales conditions rose four points to 81, while their future sales outlook climbed three points to 79 and traffic by prospective buyers leaped eight points to 58.
"When it comes to new home building activity, 2017 turned out to be the best year for permits, starts, and completions in a decade," says Trulia chief economist Ralph McLaughlin. "Elevated levels of home builders' confidence combined with persistent low inventory should make 2018 a ripe year for single-family construction to grow."
It's the sort of confidence that prompts builders like Green Brick Partners to announce the development of three new master-planned neighborhoods totaling more than 1,000 homes, with a build-out value of more than $500 million. In fact, construction spending shot up to a record $1.257 trillion in November, and three in four contractors plan to increase their payrolls this year, according to a survey by the Associated General Contractors of America.




Why are builders so confident?
Signs indicate their optimism isn't unwarranted. The economy is strong, unemployment is low, and demand is through the roof.
After years of stop-and-go growth, the housing market has finally gained real momentum, and it's not looking to slow down anytime soon for builders, who are bracing themselves for the coming wave of first-time buyers left empty handed by the existing-home market. With the months' supply down to 4.6—the lowest in more than a year—new-home sales are expected to rise 8 to 12 percent this year while home prices are predicted to climb 3.5 percent.
"This optimism is likely based on current economic conditions, an increasingly business-friendly regulatory environment and expectations the Trump administration will boost infrastructure investments," says Associated General Contractors of America CEO Stephen Sandherr.
With the recent tax overhaul expected to put more money into buyers' pockets, plus anticipation that the White House will deliver on its promise to create a more business-friendly environment for contractors, builders are predicting a housing boom in the coming year. Some are even going so far as building speculative homes, a practice that all but shut down during the recession.
"Builders are confident that changes to the tax code will promote the small business sector and boost broader economic growth," says NAHB Chairman Randy Noel. "Our members are excited about the year ahead, even as they continue to face building material price increases and shortages of labor and lots."
Investors, too, are banking on a big year for builders. The short supply of entry-level homes has sent investors rushing to builders who are focusing on starter homes, while the S&P 500's index of homebuilders increased 75 percent last year—about four times as much as the overall market.

Gaining a competitive edge in 2018
As contractors rush to fill the demand for housing the coming year, home builders will need to take advantage of every competitive edge they can. Builder home warranties can be an asset when it comes to marketing and selling new homes.
As buyers compare local builders, offering an insurance-backed structural home warranty can help a firm stand out from the pack. A home builders warranty from PWSC, for example, demonstrates that a builder has been vetted and approved by a nationally trusted third party. It also speaks volumes about the quality of workmanship the buyer should expect, so they trust that they're making a smart investment. Plus, if there are issues with the home, a renowned warranty partner can make the claims process easy for both the homeowner and the builder.
Confidence continues to grow in our industry as the housing market continues its momentum. Builders are in a "sweet spot" going into 2018, says MarketWatch reporter Andrea Riquier . As optimism flourishes, consider structural home warranties to help sweeten the deal and build even more confidence.