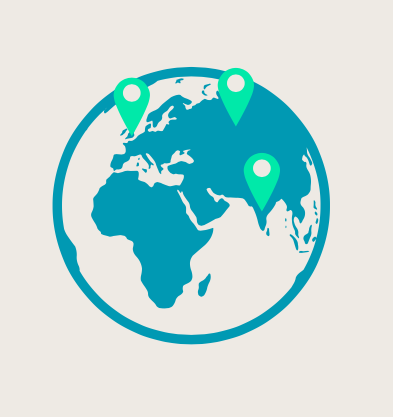 Something's driving the escalating demand for homes—and it's not just local buyers. As housing markets become increasingly international, a growing number of foreign buyers are intensifying competition in many U.S. markets.
That's good news for home builders, who are uniquely poised to tap into a potentially lucrative market by offering wealthy international buyers the new homes for which they are searching:
"Few trends have held as much sway over U.S. real estate—especially in the luxury home market—than foreign buyers," says award-winning writer specializing in house and home Camilla McLaughlin. "Looking ahead, few experts see the global appetite for U.S. properties slacking any time soon."
Home sales to foreign buyers rose 3 percent from April of 2015 to March of 2016, accounting for $102.6 billion in total sales. Real estate professionals predict this market segment will continue to grow, with one in three reporting they've worked with international clients and 44 percent expecting to see an increase in the future.



"Immigrants and foreign buyers will have an increasing impact on the shape of the housing market as time goes on," says Mortgage Professional America.

What's driving the change?
The surge in international buyers stems partly from increased immigration. According to the American Community Survey 2015, more than 13 percent of the population is foreign-born, and many international buyers seek homes in areas where their family members have already settled—most notably in Florida, California, Texas, Arizona and New York, which together attract more than half of foreign buyers.
However, not all international buyers plan on moving in anytime soon. In fact, more than 40 percent of international buyers are non-residential, which means they won't be living in their new homes. Many are investors who have decided the United States is a great place to invest in real estate—especially now that the Brexit vote has shaken the housing market in London, the former darling of foreign investors.

What does it mean for home builders?
The influx of foreign buyers is contributing to a favorable market for home builders as their hunger for U.S. homes drives up prices and fuels intense competition for an increasingly limited housing supply.
Although international clients comprise only a small segment of the total market, they carry a lot of influence in many states.  Each new immigrant adds 11.6 cents to local home values (an amount that totaled nearly $3.7 trillion 5 years ago), while foreign investors' deep pockets are putting the heat on local buyers.
"New construction, in particular, is proving to be a good match for these buyers," McLaughlin says. In many ways, they're ideal clients for home builders, considering they:
Spend more.

International buyers spent an average of

$477,462

on their homes in 2016—nearly 80 percent more than the average of all buyers combined.

Pay in cash.

Half

of foreign home buyers pay in cash, while just 44 percent rely on mortgages, making home sales faster and less complicated for builders.

Want luxury homes.

More than

72 percent

are seeking vacation or rental homes, and

one in 10

spends more than $1 million on their purchase.

How can builders attract international buyers?
For builders who want to appeal to this influential and growing market, it helps to hire an agent who is certified to work with international buyers.
"International buyers are savvy and they do their homework," says Priscilla Schumacher, director of sales and marketing for Glenview, Ill.-based Edward R. James Homes. "They're looking for a home that suits their needs today, but maintains its resale value down the road."
Know your market. It doesn't make much sense to market to Chinese buyers when your area is primarily the target of Canadian speculators. Find out who's most interested in your market, and adjust your efforts accordingly. "There is no one-size-fits-all on foreign buyers, as every country has its own customs," says real estate professional Patty Da Silva.
Beef up your online presence. Many international buyers aren't able to view the property in person, so they rely heavily on online real estate listings. "Agents who specialize in working with foreign buyers normally list the property on websites that market homes for sale globally and nationally," says Bankrate. A robust listing with plenty of photos and a virtual home tour is a great way to attract long-distance buyers.
Make it easy. Cultural barriers can sometimes get in the way of home sales, but there's a lot builders can do to prevent misunderstandings. It can be as simple as changing square feet to square meters, clearly explaining basics that may not be obvious to foreign buyers (like sales or home warranty terms), or highlighting the fact that appliances are included in the sale of the home—which isn't the case in many countries, says real estate agent Baro Shalizi.
Streamline your home builder warranty services. Since international buyers often can't physically inspect the property, a robust new home builder's warranty helps to reassure foreign investors that their investment is a sound one. Explain your builder's home warranty policy as clearly as possible, and offer a user-friendly platform for filing claims and addressing disputes.
As more international buyers flock to the U.S. housing market, connecting with this segment will become increasingly important for builders. Contact PWSC to find out how our home builder warranties can help.