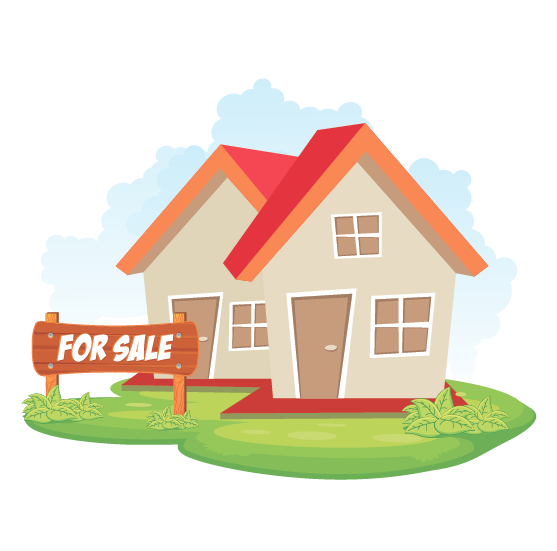 Imagine: Instead of building a model home designed to appeal to the widest possible demographic, you hand potential buyers a pair of virtual reality goggles and walk them through a computer-generated home "built" to their dream specs.
That day is coming, says Fast Company. But it's not here yet.
Until then, new home builders still need walk-through models that showcase their homes' potential in a way that will excite buyers. But if you're still building model homes the way you used to, you may be missing the mark.
With the internet at their fingertips, today's home buyers are more sophisticated and more informed than their predecessors—not to mention harder to impress. Presenting high-quality, on-target model homes is more crucial than ever, says Jane Meagher, president of Success Strategies, a Manalapan, N.J.–based firm that provides design center creation and consultation services.
"Design is just ubiquitous today and trends move faster than ever before," she says. "The buyers are on Pinterest and Houzz, they're watching a million episodes of HGTV; they're exposed to it on a daily basis."
Capturing these buyers takes more than just a well-designed model. They demand memorable experiences that will give them a taste of what it's like to live in one of your new homes. Many builders are responding with model homes that function more like interactive design centers, allowing potential buyers to see different features up close (and maybe even try them out).
So what must-have options are buyers looking for in 2017 and beyond?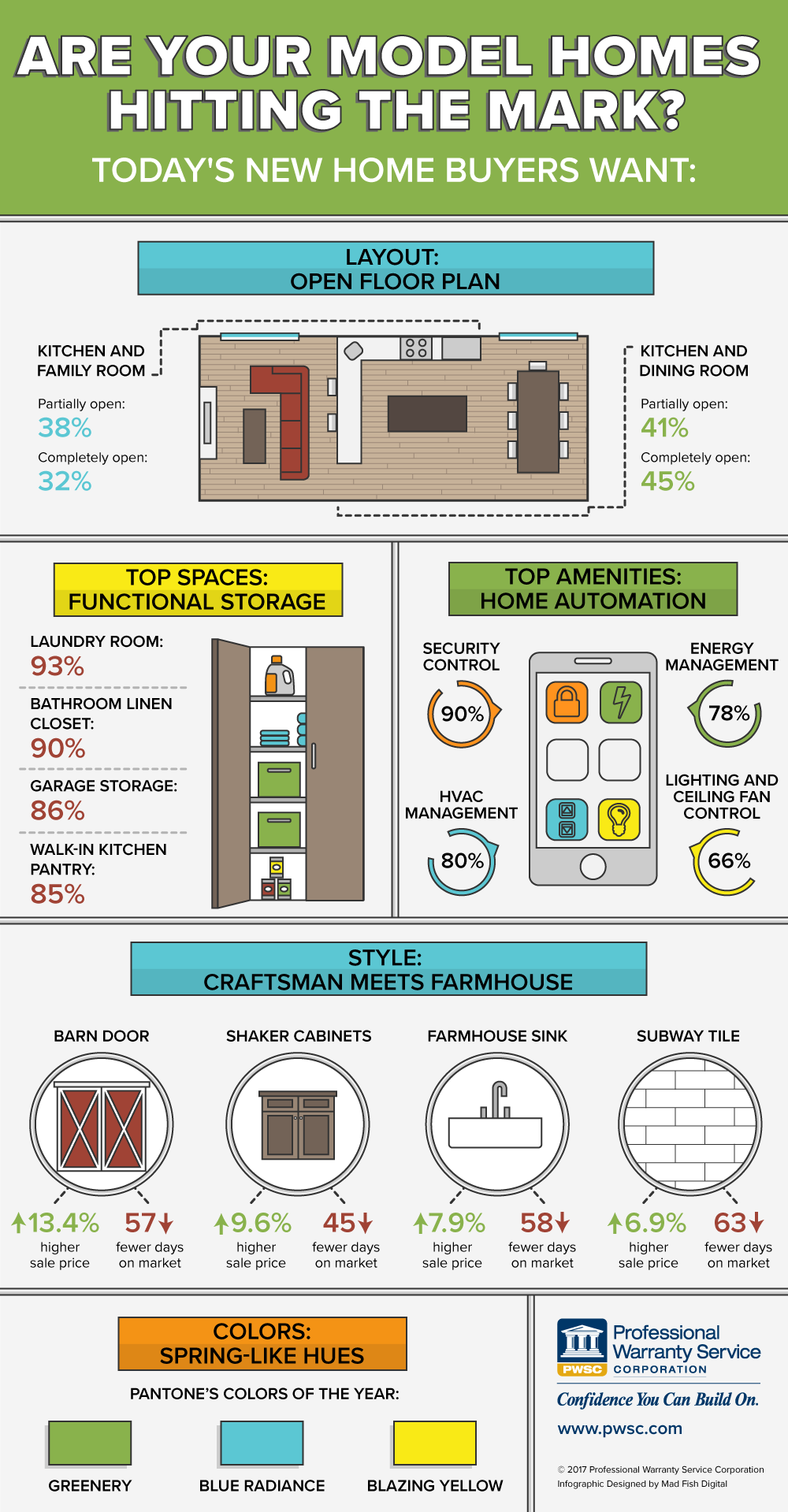 Open Floor Plan
Open, airy living spaces remain a top factor in luring potential buyers. Millennials and Baby Boomers both love to entertain. They want homes that facilitate conversation and easy flow from space to space.
But with the rise of smartphone and tablet use in family homes, they also crave walls (with outlets) that will allow them to use their devices in privacy or watch different TV shows at the same time. As a result, many builders are replacing open-plan homes with "broken" floor plans. These layouts blend open areas with flexible walled spaces to give homeowners the best of both worlds.
In a model home, open spaces should still center on the kitchen. Nearly half of prospective buyers want a completely open kitchen and dining room, while 41 percent prefer them to be partially open. A partially open kitchen and family room appeals to 38 percent of buyers, while one in three would like them to be completely open.
Traffic flow is another important consideration. Visitors to your model home should be able to walk through the house without hitting a dead end. Connecting spaces in creative ways—such as a passage beneath the stairs from one room to another—can surprise and delight prospective buyers.

Smart Home Technology
Two in three professional real estate agents say interest in smart homes is escalating. Some predict these technologies will become standard in the next several years. For today's buyers, a model home without automation is like a car without Bluetooth.
Which smart home features are buyers most interested in?
Nine in 10 buyers want security control.
Eight in 10 demand HVAC management.
Energy management is a priority for 78 percent.
Two in three want lighting and ceiling fan control.
Impressing prospective buyers with smart home features during the model home tour poses a new challenge for sales teams. Simply pointing them out doesn't have the same impact as, say, walking into a well-designed open kitchen. That's why many builders now provide interactive displays that showcase the ability to control the lights, security cameras, music, TVs and climate for the whole house.
"Homebuyers learn firsthand, through their own touch, how they can control and operate home systems and how these systems can enhance their convenience, energy-savings and lifestyle," says TecHome. "And this gets homebuyers jazzed about the technology available to them in their new homes."

Plenty of Storage
Storage is one of the things buyers often forget to look for when touring homes. Wowed by the crown molding or spa bathroom, they might not notice if the closets are small. But you can bet they'll notice once they move in.
Which storage spaces are most important to buyers?
More than 90 percent desire a laundry room.
Nine in 10 would like a bathroom linen closet.
Garage storage is important for 86 percent.
A walk-in kitchen pantry appeals to 85 percent.
Another unexpected way to enchant prospective buyers is to build a model home that anticipates their need for storage—and shows how you can deliver it in spades. Clever use of space, such as corner built-ins or under-stairs shelving, is especially appealing in a model home.

'Craftsman Meets Farmhouse' Style
The layout of a home is important, but it's the finishing design touches—from doors and cabinets to fixtures and color options—that make a buyer fall in love with your model home. Savvy designers aim for a balance between on-trend details and timeless touches.
Many model home designers are opting for a "simple, even rustic, aesthetic that's been reinvented as au courant design," says Bloomberg. Zillow describes the look as "craftsman meets farmhouse."
What design features do buyers love in a model home?
Sliding barn doors help homes sell 57 days faster and for 13.4 percent more.
Shaker cabinets result in a 9.6 percent price increase and 45 fewer days on the market.
A farmhouse sink can increase the sales price 7.9 percent and reduce time on market by 58 days.
Subway tile helps homes sell 63 days faster and for 6.9 percent more.
For colors, earthy pastels are in this year. Many model home designers are taking their cue from Pantone's 2017 colors of the year, like Greenery, Blue Radiance, Blazing Yellow, and more.

Builder Quality
No model home is complete without leaving prospective buyers feeling confident in the builder's quality and integrity. That's why it's important to showcase your structural warranty program as part of your model home or design center.
Structural warranties for newly constructed homes are key selling points for many buyers. By highlighting your home builder warranty services during the model home tour, you can remind buyers of the confidence they get from buying your newly built home with additional assurances.
Just because home buyers do most of their shopping online these days doesn't mean builders can afford to neglect their model homes. On the contrary: Getting it right can mean the difference between struggle and success in 2017.