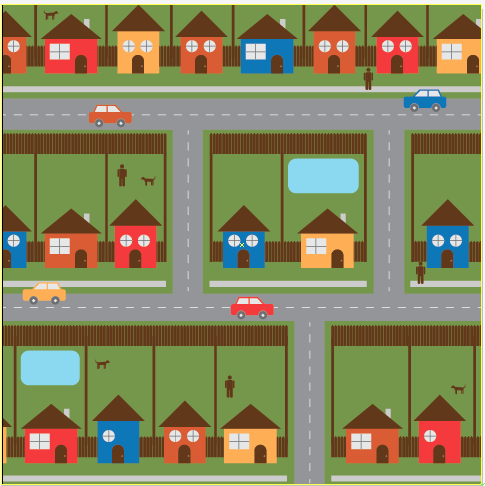 Nashville home builders have enough buildable sites to last for about a year. After that, prices will skyrocket—unless developers can catch up.
As it is, they'll need to develop roughly 88,000 lots over the next five years to ensure an adequate supply.
"The chances of that happening is zero," says Edsel Charles, chairman of the Franklin-based new home market research company.
Nashville—which nearly ties with Portland, Ore., for the worst supply of buildable lots—is one of just many home construction markets suffering from a severe lot shortage. Nearly two in three builders nationwide report a dearth of residential lots (the highest on record), while one in four warn that supplies in their market are "very low."
"The lack of availability of buildable lots has quickly become one of the biggest issues facing our members," said Ed Brady, chairman of the National Association of Home Builders. "While labor shortages and regulatory burdens remain struggles as well, lot shortages are preventing our builders from responding to growing demand for housing."

Meeting Demand for New Homes
The scarcity of home sites coincides with a rebounding housing market—which, although still growing, is recovering more slowly than predicted.
Rising rents and low mortgage rates, combined with growth in employment, have converted many renters into would-be home buyers. But inventory remains tight and competition is fierce in many markets, where there aren't enough existing homes to go around.
New-home starts, which have been slow to respond to demand, have reached 1.2 million a year—an improvement, but still a far cry from 2005, when they topped 2 million. Builders have cited labor shortages as the main obstacle holding them back until last year, when nearly 60 percent of builders named the cost and availability of developed lots as their biggest hindrance.
The problem began during the recession when lot absorption rates were low, prompting cash-strapped developers to stop applying for new development permits. Though many are in the works now, the approval process can take two to four years.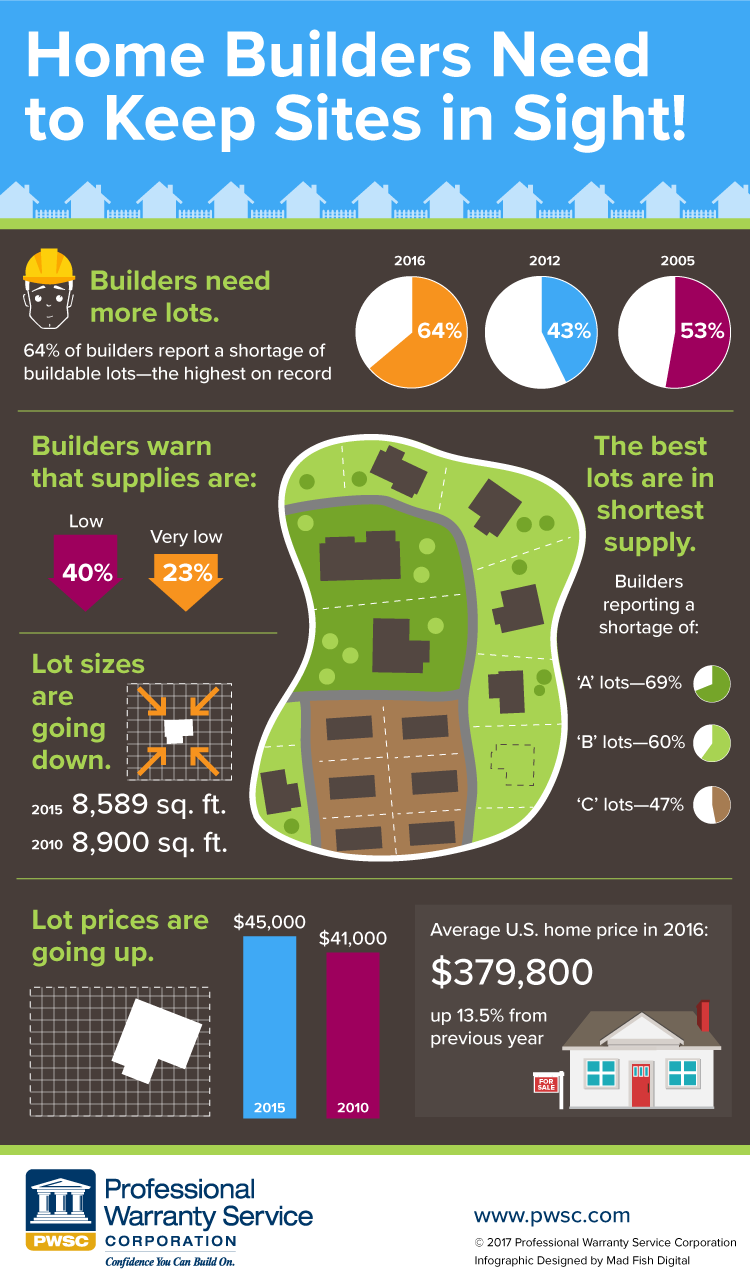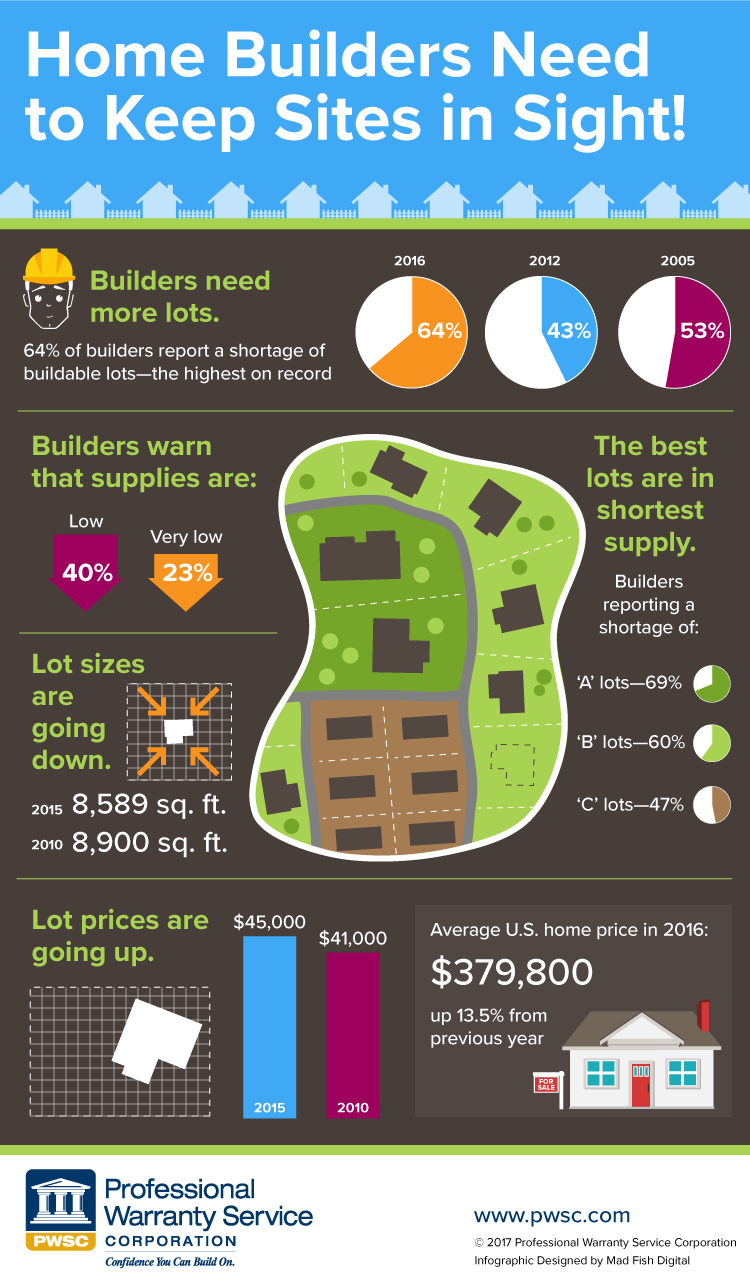 "Since 2010, lot inventory has dropped 25 percent at the same time that housing starts have increased 90 percent," says David Brown regional senior vice president of Metrostudy, which tracks U.S. housing trends. "Development activity has grown but still has not caught up with the pace that lots are getting absorbed."
Builders also blame the lack of buildable lots on restrictive regulations, limited financing for development and a growing demand for urban housing. Regulatory requirements alone are adding seven months to development timelines, up from four months in 2011.
"We have monitored lot availability for the last two decades, and it is clear that the scarcity of building lots is growing," said NAHB Chief Economist Robert Dietz. "Whether due to land use policy, geographic constraints or other regulatory constraints, the lack of lots for residential construction will have negative impacts on housing affordability in many markets."

Rising Prices, Shrinking Homes
Speaking of affordability, the scarcity of developed sites is driving prices up while at the same time causing lot sizes to dwindle.
Since 2010, the median cost of a buildable lot has risen from $41,000 to $45,000. Yet the median lot size has shrunk by more than 300 square feet to less than 8,600.
Market analysts are concerned about what that will mean for the affordability of new homes. The average U.S. home price rose to $379,800 this year—a 13.5 percent increase from 2015.
The problem is most apparent in city markets, where buyers are clamoring for urban homes where they can be close to amenities but where stricter zoning laws are constricting the amount of buildable land available. A two-year supply of developed lots is considered healthy, but many major cities have less than that available, including:
Austin, Texas
Boise, Idaho
Colorado Springs, Colorado
Dallas-Fort Worth, Texas
Denver, Colorado
Houston, Texas
Maryland suburbs of Washington, D.C.
Nashville, Tennessee
New Jersey and New York suburbs of New York City
Northern California
Portland, Oregon
Raleigh-Durham, North Carolina
Salt Lake City, Utah
Seattle, Washington
Southern California

What It Means for Builders
The lot shortage is so severe that land availability—not buyer demand—is what's driving the home construction market.
"I don't build stuff for the market because I can't find the lots," said Memphis-based home builder Keith Allen. "This whole business is driven by the land."
The lot shortage is forcing builders to look for new ways to satisfy housing needs, such as:
Teardowns.  Teardowns are expected to increase as a way to clear space for new homes. They accounted for 7.7 percent of single-family starts last year, and seven in 10 builders expect them to become even more popular in the near future.
Infill developments. Builders may also need to start resorting to vacant land within urban areas that has been previously passed over for building. Nearly 70 percent predict infill developments will become more prevalent as builders search for buildable urban lots.
Adjustable buildings. The scarcity of home sites may prompt builders to construct more flexible dwellings that can adapt to a neighborhood's changing needs.
As home builders navigate the realities of a land-strapped construction market, delivering affordable homes will remain one of their biggest challenges. One way to help counteract rising new-home prices is to offer a top-notch structural warranty program.
Structural home warranties help buyers feel more comfortable paying premium prices because they have confidence in the fact that they'll be protected if anything should go wrong. PWSC's homebuilder warranty services can help builders stand out—even as home sites continue to dwindle.