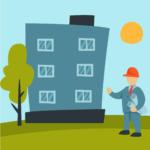 The struggle is real for single family builders, who are caught between rising building costs and the changing needs of an increasingly Millennial-driven housing market.
Throughout the housing recovery, builders have struggled to meet the insatiable demand for new homes. But it's been a slow climb for single-family starts, which haven't even doubled since bottoming out in 2010.
Meanwhile, multi-family builders have quadrupled their starts during the same time period, and confidence in the multi-family market remained firm throughout the first part of 2018. In March, when single family home starts fell nearly 4 percent, multi-family starts grew by more than 14 percent and this trend has continued into 2019.
Why the difference? You can chalk it up to any number of economic factors, but the bottom line is simple: Multi-family home builders are doing a better job of meeting the needs of younger buyers.
Between burgeoning student debt and skyrocketing home prices in many areas, young people are delaying their first home purchase, opting to rent much longer than previous generations. When they finally do buy, they often want different things in a home than their parents. Multi-family builders, already accustomed to accommodating this generation of avid renters, are much better positioned to understand what Millennials look for when choosing a living space.
While multi-family builders have certain built-in advantages—their renters don't have to cough up a big down payment or qualify for a mortgage, for example—that doesn't mean single family builders can't tap into the secrets of their success. Some home builders have even begun venturing into the multi-family market, diversifying their portfolios with condos or duplexes. Others have figured out how to glean insights from multi-family developers and apply them to create single family homes that better satisfy younger buyers' needs.
What can single family builders learn from multi-family success?
Flexible, responsive spaces are more important than size
Younger buyers aren't interested in sprawling homes, and they don't need cavernous master suites. Rather, they prefer smaller, functional homes that allot more square footage to shared living or entertaining spaces. That's good news for single family builders, who are grappling with everything from land and labor shortages to tariffs on building materials. Cleverly designed homes with smaller footprints, like those often found in multi-family developments, can help builders minimize costs while appealing to the young buyers' desire for space efficiency.
Instead of vast rooms, Millennials look for flexible spaces that can respond to their future housing needs, such as a loft or family room that can be easily converted into a bedroom or an area that can function as either a dining room or home office. Some builders are attracting Millennials with separate living spaces. These types of spaces allow younger buyers to easily add a roommate, house an aging parent, or generate extra income through short-term rentals on Airbnb.
Millennials want home technology
Millennials love their tech, and they want their homes to reflect their tech-driven lifestyle. In fact, Forbes contributor Andrew Arnold said that "a recent survey indicated that 72% of millennials would be willing to pay $1,500 more for a home that was "smart," and 42% of those would be willing to pay as much as $3,000 more."
Many multi-family builders have learned to entice this generation with slick, contemporary designs that incorporate techie touches, ranging from sensor-activated exhaust fans to LED shower lights that bathe the user in color to fully automated smart homes. As single family builders attempt to crack this ripe market of younger buyers, it's worth it to consider adding more technology features to new homes.
Social spaces are a big draw
One of the things Millennials love about modern multi-family housing developments is that they often include shared community spaces like entertainment rooms or outdoor pool areas, where they can socialize with their neighbors. Connectedness is important to this generation, and they want a neighborhood that offers a sense of community.
Single family builders can follow suit by designing communities with social spaces such as dog parks, walking trails or clubhouses. Retail spaces such as coffee shops can also be a big draw for younger buyers, allowing them to enjoy the benefits of urban living without the in-town prices.
By adapting these common multi-family features and offering them in conjunction with your current confidence-building practices, single family builders can create the kinds of homes and neighborhoods younger buyers want to live in. Continue to educate younger home buyers about the benefits of your builder's warranty covering structural items. The protection of a solid home builder's warranty may help make first-time buyers feel more secure about taking the plunge into buying a new home and can shield buyers from having to repair major defects during the warranty term.  Additionally, a systems and appliance warranty provides coverage over and above the typical one-year manufacturer's warranty on most home's major appliances and outside the wall systems.  As renters, Millennials are used to having someone else deal with the big repairs. Having both a builder's warranty in place that covers structural elements as well as a systems and appliance warranty on a property offers them similar benefits during their crucial first years of homeownership.
Editor's note: This post was originally published in on August 31, 2018 and has been updated for comprehensiveness with infographic added.