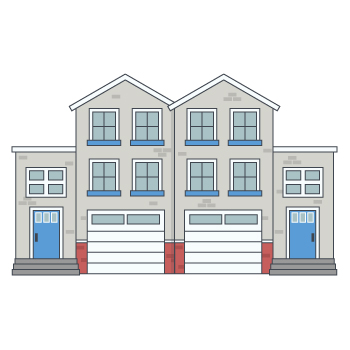 To own or to rent? It's a question a lot of Americans are pondering these days—and not just when it comes to where they live.
Since the recession, renting has become an increasingly popular way to access everything from movies to vehicles. Why buy DVDs when you can watch them on Netflix? Why buy a car when you can Uber? Why get locked into homeownership when you can rent?
"Instead of owning things, we are renting experiences," the New Statesman declared recently. "The proliferation of mobile apps enables us to source or supply whatever we want, for short periods, more easily than ever before."
It's a trend driven largely by millennials, many of whom have had to delay buying their own homes, earning them a reputation as the "renter generation." This massive generation's preference for renting rather than owning has caused demand for rentals to skyrocket since the recession, fueling a sizzling multifamily housing sector that has led the residential construction industry in recovering from the housing burst.



But now the pendulum seems to be swinging back in the other direction. For the first time since at least 2010, single-family homes are expected to outpace multifamily development this year.
Production of single-family homes increased 6.5 percent to 872,000 units—the highest in nearly a decade—while multifamily starts dipped 3.7 percent to just 416,000 units. And in a recent survey of real estate professionals, 43 percent named single-family homes as the residential construction industry's most active sector, compared to just 37 percent for multifamily building.
Economists attribute the decline in multifamily homes largely to millennials who are finally making the switch from renting to owning. As their economic situation improves and homeownership is no longer beyond their grasp, young adults are becoming less enthusiastic about renting. In fact, the majority of surveys are showing that "most want to live in a single-family home in the suburbs," says Robert Dietz, chief economist for the National Association of Home Builders.

The new suburbia
Despite their new hunger for suburbia, these young homeowners still want to enjoy the benefits of urban living: walkable and sustainable centers, scalable communities, and ample access to public transportation.
As a result, many developers are focusing on creating communities of single-family homes outside the urban core that provide "the same level of comfort and attractions of city centers," says Cecelia Bonifay, chair of Akerman's Land Use & Sustainable Development Practice.
"These new, reimagined suburban communities have all of the local-sourced restaurants, they've got the farm-to-table ethos in place and they're walkable," she says. "There's a big difference between the notion that everyone is moving into the urban core—which in many ways is hype—and the reality on the ground of reinvented suburban centers."
Three in five real estate professionals surveyed in the report agree that the preference for a live-work-play lifestyle within a compact community is one of the nation's top three real estate trends, giving rise to a variety of creative segments that aim to appeal to millennials. For example, more than 200 "agrihoods" have cropped up across the U.S., offering sustainable farm-to-table living in suburban settings surrounded by community gardens. And communities that incorporate wellness-related amenities or design features have become one of the fastest-growing segments of the $3.72 trillion global wellness industry.
Altogether, "the reinvention of suburbia has paved the way for a wave of construction across the country," Bonifay says, while helping to feed demand for single-family homes.

Feeling confident is key
But how long will the trend toward single-family homes last? That depends on whether buyers will continue to be able to afford homeownership in the near future. Housing shortages are driving up prices in many markets while affordable starter homes are in short supply, which means many younger buyers may struggle to find homes that fit their income.
"The likelihood of continuing improvement in the single-family housing market in our nation's cities and towns largely depends on job growth and how wages compare to that locale's housing prices," says the Indiana Business Review. "Holding all other things equal, communities with positive job growth and a favorable margin between wages and housing costs are more likely to experience a more stable single-family housing market than communities with more narrow home affordability."
For home builders who want to capitalize on this trend, the key is to provide single-family homes millennials feel confident about buying. This means focusing on starter homes that fit tighter budgets, particularly in areas where housing prices are rapidly outpacing job growth and wages.
Strong home builder warranties can also help encourage younger adults to buy instead of rent. Potential homeowners who are on the fence about buying may be more inclined to consider a home with a full ten-year home builder's warranty or at least one that matches the statute of repose in their state.  Builder's warranties on new home construction offer protection against major repairs for the first several years, giving new buyers time to settle into homeownership before having to worry about unexpected expenses, while home builder warranty services provide a means of recourse in case of a system failure or construction defect.
As more buyers pour into the market, economists expect the demand for single-family homes to keep growing. "The demand is there. Interest rates are low," says Freddie Mac deputy chief economist Len Kiefer. "Folks are showing up to buy, but there isn't inventory."  The big challenge for builders will be to provide the type of inventory they're looking for – affordable, low-risk starter homes that come with additional assurances so buyers feel confident in their investment.