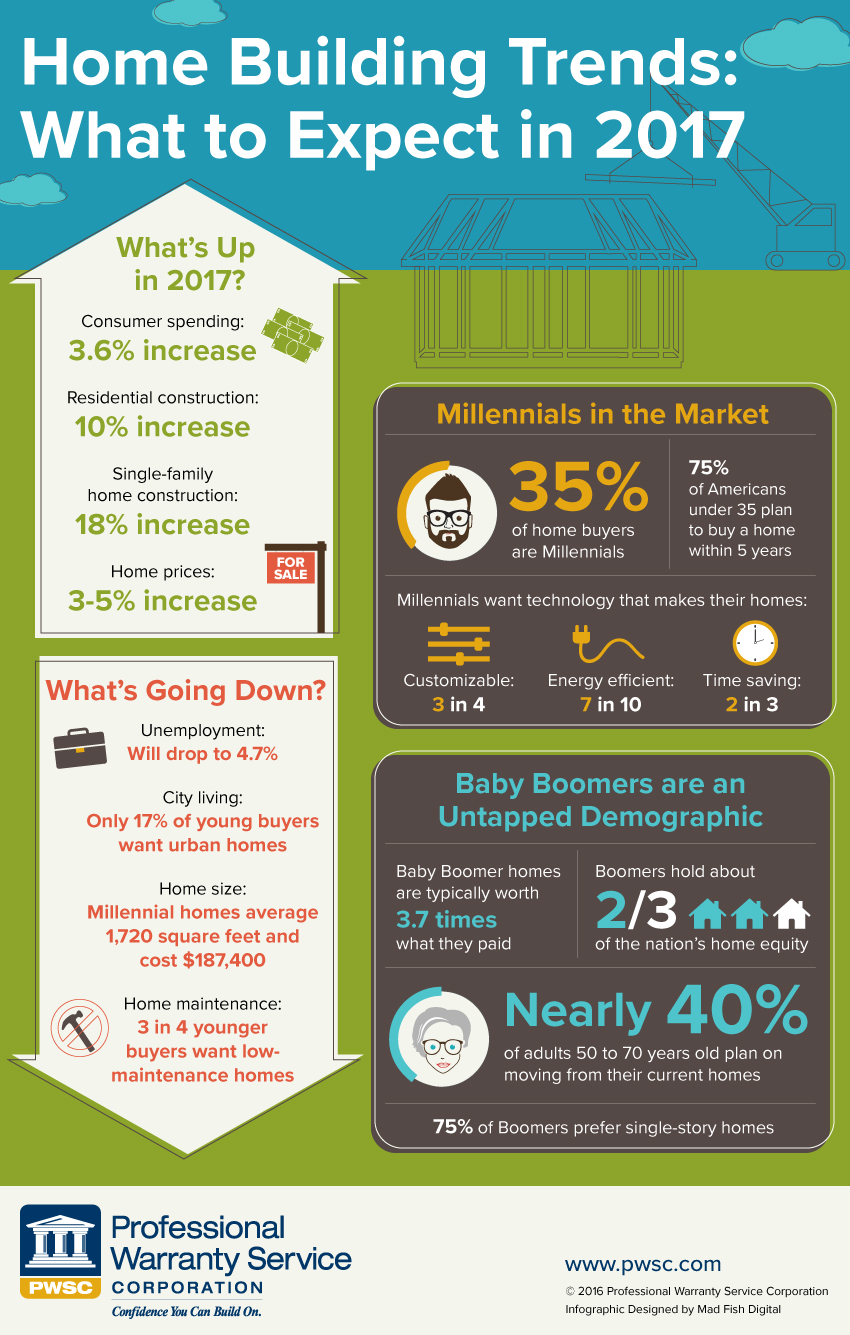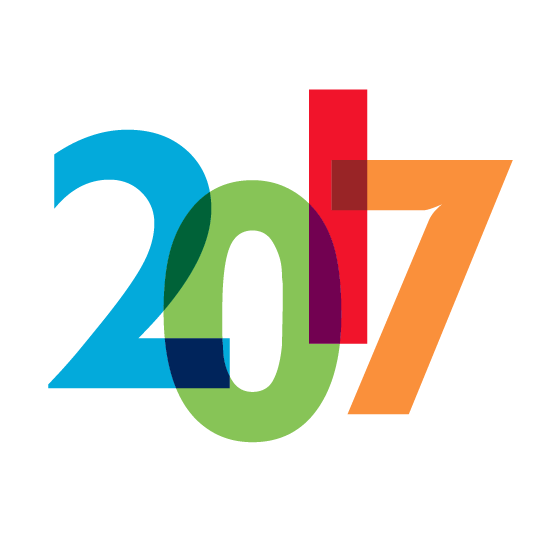 Recent 2017 housing construction predictions all point to a year of slow but steady improvement, punctuated by exciting new developments in home efficiency and technology. In addition, in the foreseeable future, economic and construction growth is expected to continue as they have been.
Millennials are the key influencers to watch in the new-housing market, as their preferences and needs will guide home builders' choices—or should, for those who want to tap into this crucial demographic. And what younger buyers want is technology. Home automation is one of the biggest trends we'll see in the coming year as consumers demand smart, efficient homes that make their busy lives easier and less hectic.
Baby Boomers, the second-largest home buyer demographic, also present a valuable (yet untapped) market for builders. Rich in home equity and seeking a place to retire, these buyers are looking for convenience, accessibility and lower housing expenses.

2017 Economic Forecast
The horizon looks a little brighter for 2017 as both employment and the economy continue their slow-but-steady climb. While things are far from booming, we can look forward to another modest economic surge before growth tapers down to a more sustainable rate.

Home Building Trends
Home prices are nearly back to their pre-recession highs, and hot housing markets like Seattle and Portland will continue to sizzle in 2017. Although the rest of nation could experience a cooling trend, historically low mortgage rates should keep the real estate market inching forward.
Home builders can expect a year of growth as pent-up demand for housing production fuels a flurry of new-home construction. Excess inventory left over from the housing boom is dwindling, which means builders will want to step up production despite the labor shortages and rising regulatory costs that have been holding them back.

Home Buyer Demographics
Remember the Millennials who delayed buying their first homes during the recession? Large waves of them are expected to hit the housing market in 2017 and beyond. Economists predict the youngest generation of buyers will keep home sales chugging along well into 2020, which will make them heavy influencers in real estate over the coming years.
"Millennials will have a huge impact on the housing market for the next decade," says economist Nela Richardson. "So whatever a few of them do, there's enough of them that they'll make a big impact."
What's more, Baby Boomers, who were the largest American generation until the Millennial generation, are quickly nearing retirement age or have already retired. Born between 1946 and 1964, there are more than 76 million Boomers. Though they are getting older, retirement homes are not in their future.
According to Curbed.com, "Boomers are the second-largest group of homebuyers (31 percent) after millennials (35 percent). More than half the homes owned and occupied by boomers (53 percent) are between 1,400 and 2,600 square feet, with 12.5 percent measuring 2,600 square feet or more, according to Trulia."
Need a relevant Baby Boomer quote to give context to including them in this paragraph.

What Home Buyers Want
As more digital natives start looking to buy, both home builders and real estate professions will need to re-examine how they conceive and market homes. "High-tech," "efficient" and "smart" describe what these buyers demand—in everything from the home buying process to the home itself.
Sustainability, high functionality and modesty are all important features for younger home buyers, who want to live within their means while also exercising minute control over their home—from lighting and HVAC systems to AV and appliance settings—through their smart phone.
When it comes to home size, older buyers are content with homes with less square footage and are even interested in downsizing. However, Millennials are looking for homes over 2,300 square feet, whereas Boomers prefer homes with less than 1,900 square feet. The interesting thing is that both ends of the age spectrum agree on wants such as single-family detached homes in suburban locations, laundry rooms on the main level, exterior lighting, and ceiling fans, as important home elements that weigh into their purchase consideration.
To succeed in 2017 and beyond, builders and real estate professionals will need to tap into the needs and desires of the two largest groups of home buyers. PWSC helps by offering real estate professional and home builder warranty services tailored to these buyers' demand for products that save them time and money. A new-home builder warranty makes Millennials and Baby Boomers more confident about becoming homeowners.
Whether you're a homeowner, real estate professional or builder, being aware of current trends, staying in touch with the largest home buying demographics and utilizing warranty services from PWSC can help you make 2017 a success.