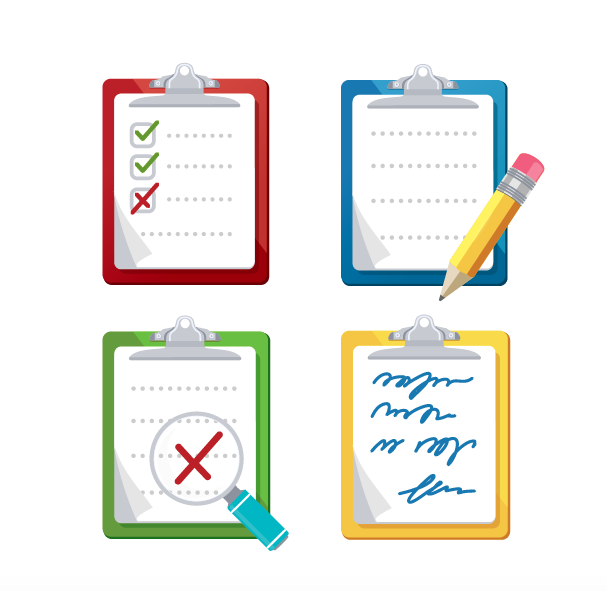 The process of building a new home can be a bit daunting for a home buyer, especially a first-time homeowner.  As a new home buyer working with a Real Estate Agent, you have the professional service needed to protect your interest.  Your agent will be your "voice" whenever questions or concerns arise. But that does not mean that you should not be prepared to ask all of the right questions prior to writing a contract!  When buying new construction, it is important to leave nothing open ended in your conversations and when writing the contract.
Screen your builder before contracting.  Make sure he or she is of sound business practices, portrays a focus on quality construction, has a high level of experience, is credit worthy and has positive reviews.  Have all of the details, description of materials, architectural drawings, all allowances (including flooring, kitchen, appliances, lighting, etc.) in your purchase offer.  If these items are not spelled out, you may be disappointed when the builder chooses your options for you.  Be prepared, ask questions and have conversations with all parties involved.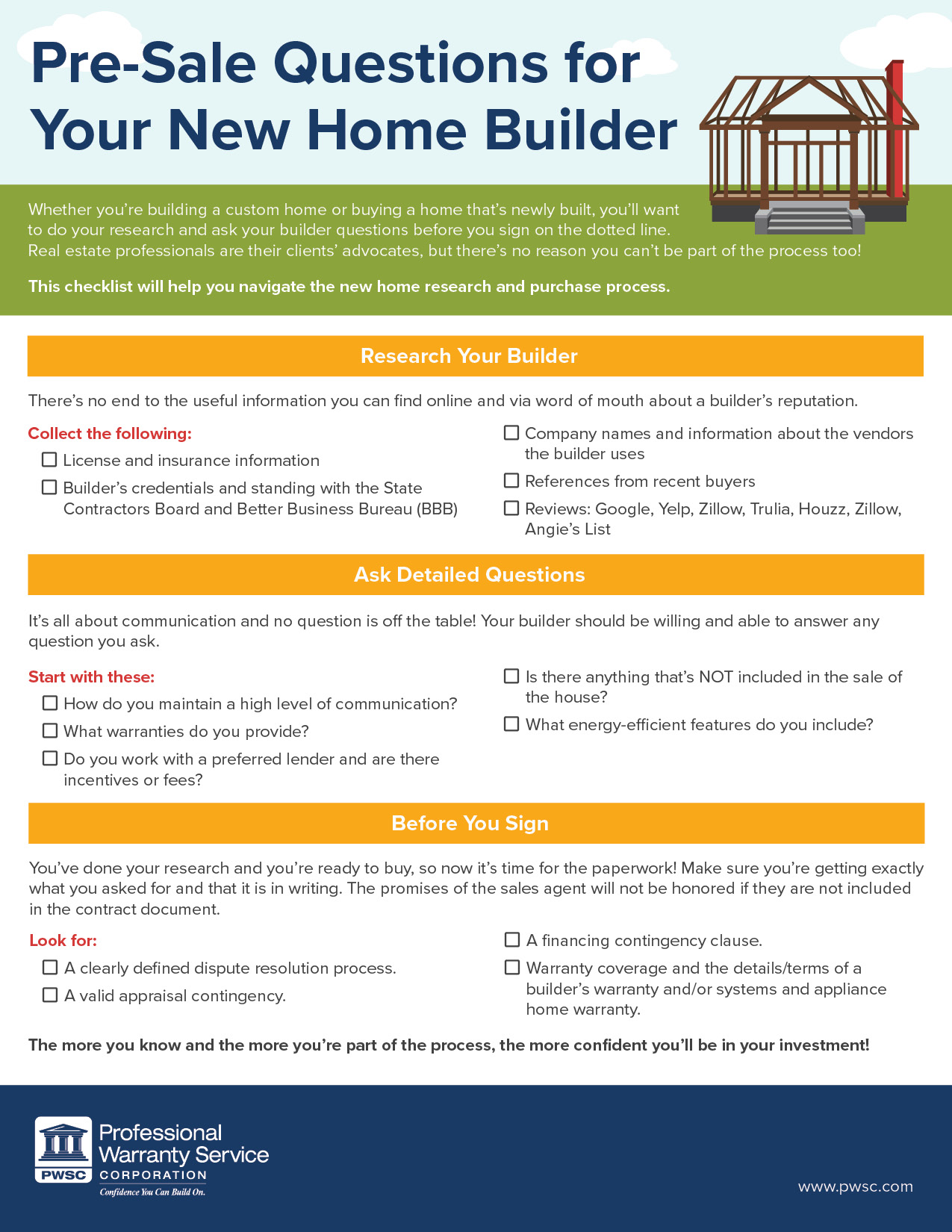 How long will it take to finish a home that is being built?  

When will the builder START construction?  

What is the "timeline" of the build?  

(

With a timeline

from your builder,

you will have an understanding of the building process and how long each trade will typically take.

)

What choices do you have as home buyers?  

How will your house fit on the lot?  

Are there deed restrictions?  

When do you have to choose your required buyer selection sheet?

Can you

supply

any of your own fixtures?  

What other options does your builder offer?  
By asking some of these questions prior to contract writing, you have less of a chance of missing out on something you were unaware of or that you may have forgotten.  Asking these questions after you have already written a contract to purchase can be very disappointing because it may be too late to hear the answer that you hope for!  
Another important part of writing an offer to purchase new construction is ensuring that specific details are spelled out in the contract.  Make sure the following items are clarified in your contract:
Lender, attorney, title company:

 Many builders recommend or require that you use their lender and attorney or title company, and typically offer assistance with closing costs when doing this.

Change Management:

 How does the builder handle changes during construction?  (This should be part of your contract because many builders have "upcharges" when you request changes.)

Post-Construction Issues:

 How does the builder handle aftersale post construction concerns?  

What time frames are expected for you to communicate any findings?

Warranty:

 What type

of

warranty does your builder offer?  Is he a member of a home warranty company that offers structural and systems coverage?  Get it in writing!
If your builder has not already offered a warranty, you still have the opportunity to ask for a builder's home warranty covering structural issues, purchased from a reputable warranty company, prior to signing a contract.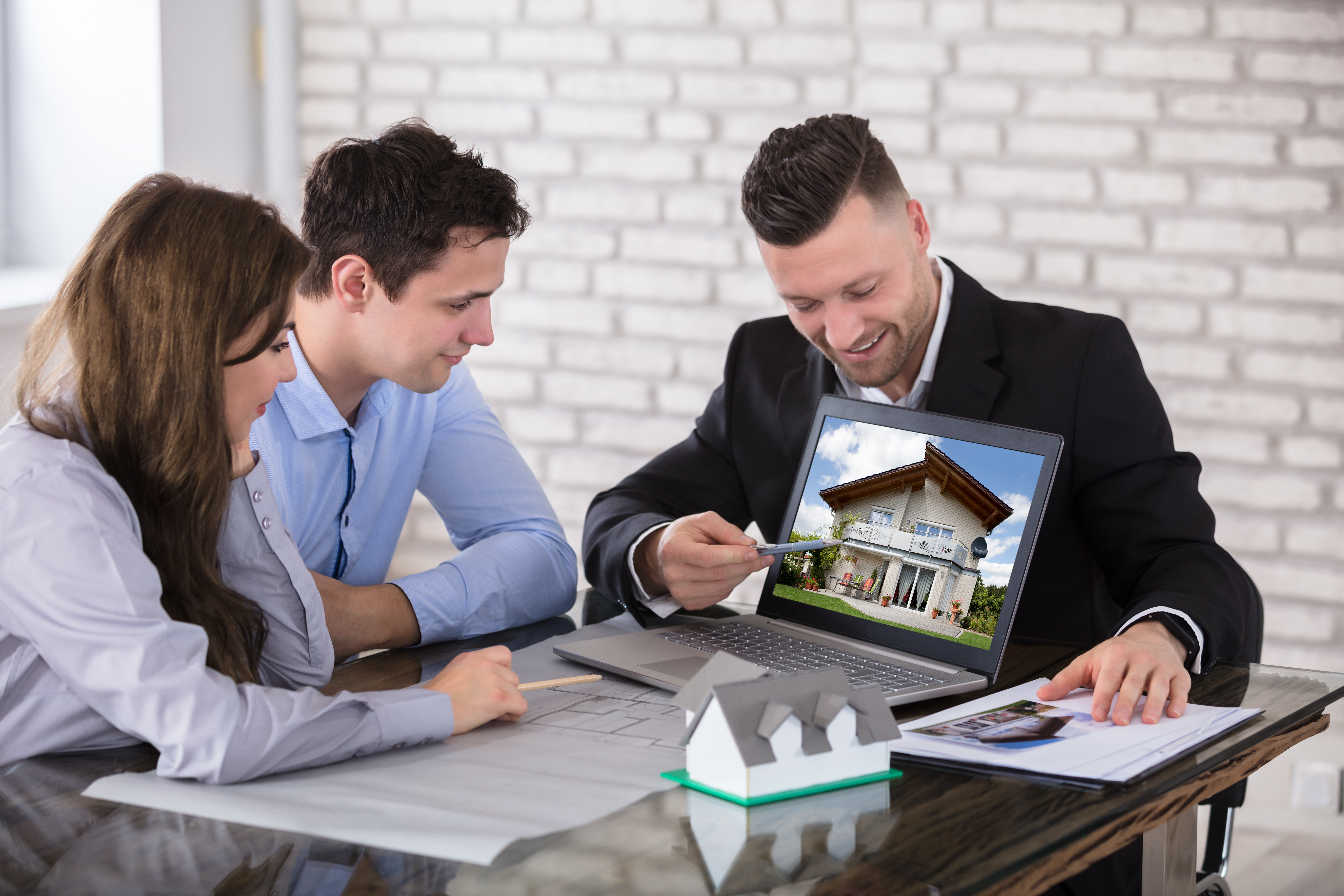 If you do not ask and do not have in it writing prior to ratifying a contract you may have no protection, or the state implied warranty only.  Just as important, does your builder offer a systems and appliance warranty for additional years after the manufacturers' coverage?  These warranties provide post-sale coverage and long term confidence in your new home purchase.
This is an opportunity for your future comfort and happiness in your new home!  There are no questions that are silly, if you don't know the answer before asking.  Speak up, have your real estate agent advocate for you and be sure that everyone is on the same page so that the end product is your amazing new home and exactly what you expect!